Discover more from Conflict Transformation
Harm prevention and conflict transformation in times of isolation and social solidarity.
Over 1,000 subscribers
When facilitating a conflict process, I often encounter the questions "How can we resolve this if we can't even agree on the basic facts of what happened?" and "How can we work together if we don't even share the same values?" To this, I often respond with, "Why is agreement important to you?"
To approach that question, I'm going to spend the next three newsletters focusing on why preserving disagreement, misalignment, and difference can be as important as coming to agreement and I'd love your help developing it with the weekly discussion.
If people learn about conflict at all, we typically learn about conflict resolution (i.e. putting a stop to conflict), with resolution meaning agreement (i.e. all parties coming to the same understanding). American culture emphasizes two significant values that contribute to this view of conflict: Singular Truth (a set of values and beliefs which are Right or Correct) and Unity (that we should embrace similarity—"we're all the same color on the inside"). If we were raised with these as high values, we are typically engaging in conflict by trying to create agreement or sameness—whether we realize it or not—as the foundation of a solution.
This might look like:
convincing the "other side" to come over to "our side"

centering "majority rules" (conformity to the masses) in decision-making

debating the "facts" of events to get someone's experience to align with ours

labeling certain actions or positions as good, evil, moral, or immoral in the abstract

threatening or coercing others into doing things "our way"
These approaches may suppress conflict in some instances, but where do they leave those who disagree? In organizations, communities, and societies in which decisions are made by majority rules, those who disagree are often coerced into enacting the will of the majority—rather than resolving a conflict, this leaves those whose interests weren't represented by the decision with unmet needs or unsatisfied desires (for example, voting on same-sex marriage punished gay couples into a shared definition of marriage). Other models such as consensus, may operate only as well as there are shared goals or values to start.
Our society's focus on resolving conflict through sameness (often through winning a vote and conforming to the winning side) leaves us with few skills to maintain and nurture difference when it's valuable. If this is a factor for us:
We might spend our time in relationships and teams focusing on the things we agree on and share, but avoid talking about the ways we differ. As a result, when conflict arises, we might find ourselves shocked by and dismissive of different needs and refer back to our sameness—shared values, goals, or backgrounds—as justification for neglecting each other. We might urge people to see our differences as less important than our similarities, effectively silencing and invalidating meaningful parts of each other's lives.
We might find that our arguments always debate facts or try to win the other's agreement, instead of focusing on how we can move forward without harm, control, or violence—our focus on agreement might lead to severing our relationships or stopping conversations with frustration or pain. We might feel we always "win" an argument but that the other person is fearful, intimidated, or ashamed of raising their concerns with us later on—or stops coming to us altogether.
We might spend a lot of time focusing our work on finding one final solution that everyone will follow in order to avoid conflict, because we know meeting everyone's needs will keep us returning to the conversation and navigating tensions or perceived inequalities. As a result, we might find that we lose people on the margins (or are marginalized ourselves) because those needs, desires, and interests are rarely acted on and we're often asked to be inauthentic.
We might seek understanding as a quest to reach the same or precedented conclusions, rather than taking in new and different viewpoints that all have value—we might then struggle with finding closure because we aren't really listening to each other's different experiences as having unique meaning.
Yet, as we struggle through this, we probably understand that difference is fundamental to knowing and being our authentic selves, improving and shaping a better world, and creative and generative innovations. So, what can we do to accept, nurture, and encourage difference in our conflicts?
In Part 2 we'll explore the varied kinds of difference that exist in a conflict (please join the weekly discussion on "deal-breaking" differences, between now and next Sunday!), and in Part 3 we'll explore practical approaches to addressing difference in ways that don't coerce conformity or sameness.
---

[Image description: The word Discussion in yellow letters, with Week Four in white hand-written script below it. In the background is a photo of a mountain range with its peaks fading into a cloudy sky.]
How do you know when a fundamental difference between you and a person or organization is a "deal-breaker"? Answer here!
---
Opportunities to Learn + Act
I have some new availability to take on conflict counseling clients. For details, click here & feel free to share with folks who might be interested.

Attend: October 21, 4pm - 6pm Transformative Justice in the time of Defund the Police with Shira Hassan and Mimi Kim. Register here.

Listen: Survival Pending Abolition, an episode of Rustbelt Abolition Radio featuring Ruth Wilson Gilmore, Amanda Alexander, and Kim Wilson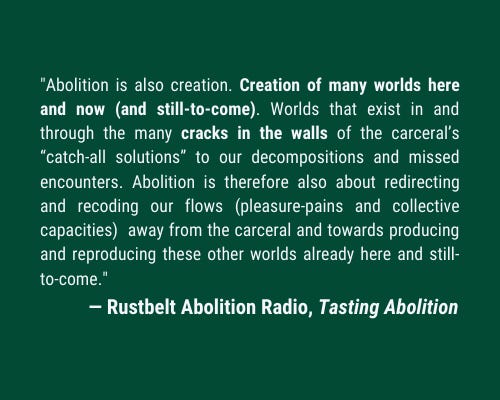 Image description: A green box with the quote: "Abolition is also creation. Creation of many worlds here and now (and still-to-come). Worlds that exist in and through the many cracks in the walls of the carceral's "catch-all solutions" to our decompositions and missed encounters. Abolition is therefore also about redirecting and recoding our flows (pleasure-pains and collective capacities) away from the carceral and towards producing and reproducing these other worlds already here and still-to-come." —Rustbelt Abolition Radio, Tasting Abolition